Note: This site is not proNRM or anticult, the content and links below are for informational purposes only. See disclaimer for more information.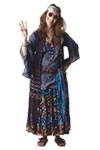 The Family is a new religious movement/cult/missionary organization. It was founded in 1969 by David Berg (Mo), and since his death in 1994, has been led by his widow Karen Zerby (Maria). Self described "endtime soldiers for Christ", the group has embraced controversy from the very beginning. Berg's teachings proclaimed the new era of the Christian faith, and the rule of the "law of love". This doctrine teaches that nothing could be judged good or bad by the action alone, but only by the motivation behind it. If it was done in love, then it was acceptable to God. (This was later revised to exclude male homosexuality, sunbathing and criticism of Berg.)
Going on this basic principle, Berg launched a method of evangelism through sex he termed "flirty fishing". A variation on an ancient profession, this outreach method consisted of female members dressing provocatively and going out to engage men. They were then use their feminine wiles to attract them to God, the group and to persuade the men to compensate them for their time. Since birth control in any form was forbidden by Berg, this practice stopped in 1988 due to the fear of AIDS.
Other unconventional practices adopted by the Family include sexual "sharing" of husbands and wives with other members of the group, explicit videotapes of female members of all ages recorded for Berg and circulated throughout the group, common-law marriages with more than one partner, invocation of the dead, internal detention centers for wayward members and the donation of all property to the group upon gaining membership.
The Family is currently active around the world and engages in a number of humanitarian aid projects. Members are committed to the cause of evangelization and have attracted many supporters.
Due to the restrictions on family planning and the open sexual atmosphere within the group, many thousands of children were born and raised in the Family. For many decades, education above a 6th level was deemed unnecessary, vaccinations and medical treatment were denounced as a lack of faith, children reached "adulthood" at 12, and strict corporal punishment was administered by any adult in the group.
Despite the unorthodox upbringing Family children received, many are moving on to healthy adulthood, whether they choose to associate with the Family or not. The purpose of this website is to provide a dialogue on issues unique to exfamily youth.
Publications Regarding the Family
From Academics
From Journalists and Researchers
Page last updated: October 18, 2002